The Sea of Galilee is a stunning freshwater lake in northern Israel, hailed as the very place where Jesus is claimed to have walked on water. Also known as the Kinneret and Lake Tiberias, this special lake and surrounding region have a centuries-old history.
The area's biblical significance and fascinating history (where Jesus performed most of His miracles- and yes, it intersects with the Jesus Trail) make it a popular Christian pilgrimage destination and home to historical churches, museums, sites, and more. Yet, there's also a contemporary twist with various activities—beaches, parks, cycling routes, and restaurants.
Take advantage of Abraham's guide and soak up everything the Sea of Galilee has to offer on your next trip to Israel.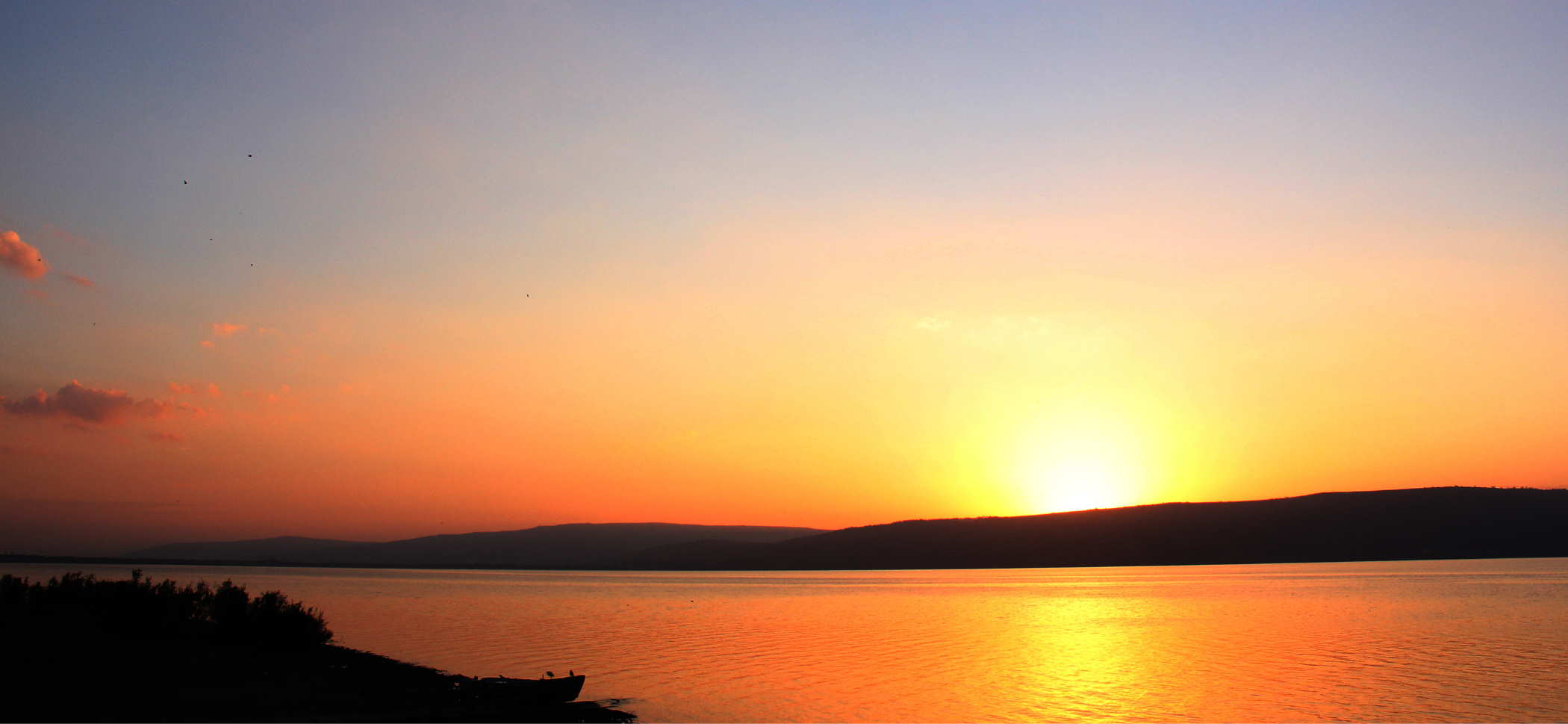 Get Acquainted with Capernaum
The center of Jesus' ministry, the delightful fishing village of Capernaum—the town of Jesus, as it's referred to in the Bible—is a renowned Christian pilgrimage site where Jesus lived and carried out many of his missions. Excavations have revealed fascinating houses and buildings dating back to the first century in the small town that you can see today. Make time to visit the two churches. One is Peter's House, built by the Franciscans, and the other is run by the Greek Orthodox. There's also an ancient synagogue discovered in 1838, active in the Byzantine period.
Explore History at Mount of Beatitudes
Mount of Beatitudes is the site of the Sermon on the Mount, where Jesus chose the Apostles. The Church of the Beatitudes, atop the sloping hill overlooking the Sea of Galilee, is a Catholic chapel built in the late 1930s by Italian architect Antonio Barluzzi. Brimming with numerical symbolism, you'll be in awe at the striking octagonal design, representing the eight Beatitudes. A fun fact, Popes Paul VI and John Paul II visited the church during their Israel visit.The site is open daily between 8:00–11:45 and 14:00–16:45.
Sail on the Sea & Stretch on the Beach
Sail on a replica wooden boat that Jesus used himself with one of several companies offering organized boat trips as a time of prayer, meditation, reflection, and spirituality. Alternatively, you can rent a motor boat and enjoy the water at your leisure. 
Afterward, grab your beach towel, hat, and sunscreen and head to one of the many surrounding sandy stretches, including Bora Bora Beach, Ron Beach, Arbel Beach and HaMashevot.
Spend A Few Hours In Tiberias 
While visiting the Sea of Galilee, head to the western shore to explore the city of Tiberias, one of Israel's four holy cities constructed by Herod Antipas (King Herod's Son) around 20 CE. Today, it's a vacation destination. Laze away a morning at Tiberias Hot Springs National Park (Hamat Tiberias) where the Tiberias hot springs flow and an ancient synagogue mosaic is on display. The site is also home to the Tomb of Rabbi Meir (Tanna Rabbi Meir Baal Hanes), a Jewish sage who lived around two thousand years ago during the time of Mishnah—a written collection of Jewish traditions known as the 'Oral Torah'. 
You'll also find local shopping, restaurants and (as mentioned) plenty of quaint beaches. 
Visit Kibbutz Ginosar 
Ginosar, resting on the western shore of the Kinneret, is a Kibbutz with 600 residents. Back in the first century AD, it was a bustling town known as 'Gennesaret', from which it takes its name today. In 1986, a 1st century AD fisherman boat was discovered constructed from a dozen types of wood. Named 'Jesus Boat' it's been meticulously preserved and is on exhibition at the kibbutz for visitors at the Yigal Alon House.
Get Spiritual at Yardenit Baptismal Site
Yardenit Baptismal Site, on the banks of the Jordan River at the south end of the Sea of Galilee, attracts thousands of Christian pilgrims annually. This divine holy spot is where Jesus was baptized by John the Baptist and where he preached.
If you decide to participate in a special baptism ceremony, baptism robes are available for rent. Or perhaps you'd prefer to explore the pastoral scenery around this spiritual site. 
What's The Jesus Trail?
For the adventurous, spiritual, nature-lovers among us, the Jesus Trail, a 65km trail winding through the slopes and trails of the Galilee, is a must-see! Although it follows in Jesus' footsteps through both historical and sites of religious significance, it's also an opportunity for anyone who appreciates the outdoors and discovers jaw-dropping landscapes throughout this pristine region. 
Beginning in Nazareth, stops along the route include:
The trail's sustainable mission is to minimize the impact of visitors with a 'leave-no-trace' approach. Cleaning and preserving the trail is at its core, to better connect people to the natural world.
If you prefer to join as part of a tour, Abraham runs organized packages:
This three-day, self-guided tour starts in Nazareth where you can explore and rest before departing the next day to Zippori National Park before heading onto Cana, where Jesus performed his first miracle. After a shuttle to Arbel National Park, you'll continue the trail through the Bedouin village of Wadi Hamam toward the Galilee coastline and onto Capernaum and Mount of the Beatitudes. The package includes two nights' accommodation, breakfasts, self-guided materials, a shuttle from Cana to Arbel National Park, and a transfer to Tiberus.
A longer tour at 6 days, your route will connect you from Nazareth to Cana, onto Kibbutz Lavi, followed by Moshav Arbel, and then to Capernaum. The package offers five nights of accommodation and breakfasts, an orientation in Nazareth, a guidebook, luggage transfer between accommodations, local English-speaking contact, and self-guided materials.
Where To Stay
If you're planning to spend a day or two in Nazareth, you will not want to miss the magic of Fauzi Azar, a 19th-century mansion reimagined into a striking one-of-a-kind guesthouse. Welcoming people of all backgrounds and faiths from all over the world, the accommodation is located mere steps from the bustling market. Make the most of our private guest suites and female or mixed dorms at an affordable price. We also have a communal kitchen, comfy lounges, and our weekly community events—cooking and Arabic classes included.